Hey guys!! I'm a bass guitar player Juna Serita!!
Today my dad was here, so we ended up to go to have lunch together.
dad「What do you wanna eat?」
Juna「Eeeeeeeee…. meat and vegetable..?」
dad「heavy or right ?」
J「Not so heavy..(Actually I didn't expect I would have lunch with him , so I ate enough in the morning .. )」
J「How about you? What do you wanna eat?」
dad「Well…. seems like you often eat sushi….so….」
Oops…
(Not so often , but very recently  I just had sushi with a mature guy who is much older than my dad( You can see that with this post ). Of course I have nothing to hide ;however I felt sorry to my dad  a little .. There is no reason tho.lol)
Anyway we came to Cowboy Family ; )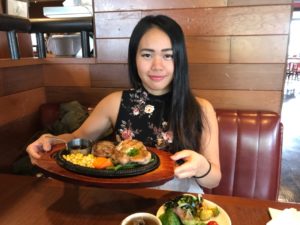 「Hey why are you wearing too heavy makeup? ; ( 」
Dad said to me so…
For me it's usual .. I don't mean it's too much .. lol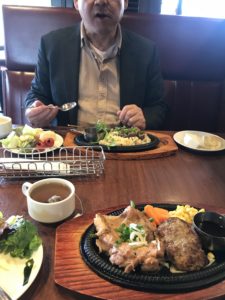 dad「I went to Nagoya with your mom recently .」
J「Yeah then mom sent me the  message "I came to Nagoya with dad!! ". Seemed happy .」
dad「We ate hitsumabushi.」
J「Wow I'm jealous. How about misokatsu?」
dad「No, because she said she prefers hitsumabushi. Oh and then we went to Isomarusuisan,too.」
J「Nice, is there no Isomarusuisan?」
dad「There is ,in Osaka.」
J「I see  maybe Nagoya is a little nearer than Osaka..right?」
etc…..
Time flied , so he took me to the station and he went back.
See you soon dad!
At night I had a performance at Gigabar Tokyo.
A vocalist called Yoshi asked me to wear this glasses .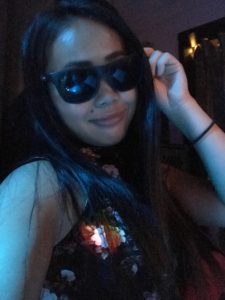 Umm,   not bad 😉
Lookin' is also very important thing for entertainment.
https://twitter.com/JunaSerita/status/994409858546810880
See ya!!
_________Pickup event schedules ________
💖5/20 Lab.  @ Fussa Cafe de Noel
💖6/23 yolis & Juna  @Jiyugaoka hiphen
💖Juna Serita Band @ 下北沢RPM
_________________________
Juna.