Hiii. what's up!
It's been a while I almost forgot I have blog. lol
Only the reason that I'm writing this today, is
I have very exciting live!!  
It's held in Japan, but also live streaming as well for ya!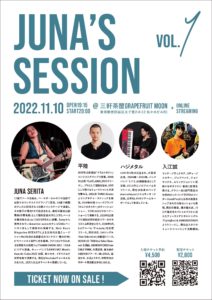 [Juna's Session vol.1]
【出演】
Ba Juna Serita
Dr 平陸 Riku Taira
Key ハジメタル  HAJIMETAL
Gt 入江誠 Makoto Irie
November 10th ,2022
三軒茶屋GrapeFruitMoon (http://grapefruit-moon.com/)
OPEN19:15/START20:00
★Live Ticket¥4500(+DRINK)
 https://tiget.net/events/207783
★Live streaming¥2800 (archive for a week) https://twitcasting.tv/c:grapefruitmoon_/shopcart/188383
If you haven't heard these musicians 's name yet, you can check out from here
Drummer Riku Taira
Keyboard HAJIMETAL
Guitar Makoto Irie
I'm super excited how it goes with these musicians!
(I've played with Riku before, long time ago, but I'm gonna jam very first time with  HAJIMETAL and Makoto!! )
See ya!!
---
💗Support Juna 💗
---