Hey guys!! I'm a bass guitar player Juna Serita!!
In the morning I went to B-CORE Tokyo studio for the first time in a while 'cause I'd been quite busy .
I took a stretch class and it was wonderful . 
I had felt painful on my ass to back of the thigh for a long time . I always stretch before going to bed but I was not sure how I can stretch on the exact parts ( ass and back of the thigh ) in spite of that I was in many sports club team like karate, Kyudo, baton twirling, basketball,etc.. ( I mean, I thought I already know how to stretch my body much more than other people )
However at the lesson , the way the teacher teach me was incredible!! I exactly stretched THE POINTS . 
I admire her so much . Thanks for the great lesson .
Btw the picture is a machine which can major my stress level .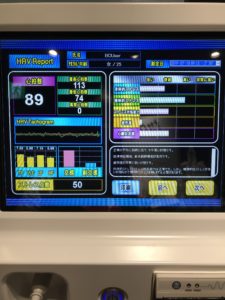 According to it , my body isn't tired AT ALL but my mind ( brain ? ) is stressed out . Lol 
Anyway thanks to my mom . She is the one who made my body strong and healthy . That's why I can really work hard .
After B-core, I went to Tokyo City Keiba for the performance of TOKYO BRASS STYLE .
We had two stages .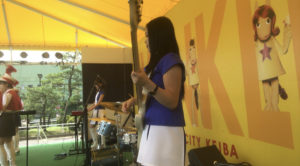 Today's set list 
1.21st century girl
2.cutie honey 
3.We will rock you 
1.Astro boy
2.Koi wa mekimeki
3.Odoru ponpokorin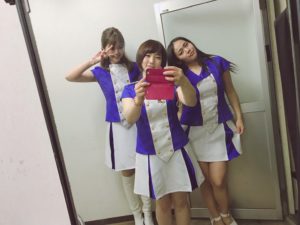 Today's my costume was blue . 
Last time they gave me a red costume but it was too small for me and I event couldn't do up the button . ; (
Finally they gave me L size costume ! yey yey ; )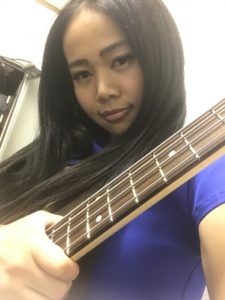 See ya!!
---
【Juna new video】
【Juna Serita Schedule】
2019.9.16 (Mon)
BLUE MOOD @ Shiodome , Tokyo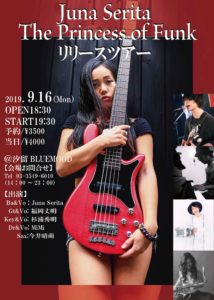 Open : 18:30 / Start :19:30
予約3,500円 / 当日4,000円出演
Bass & Vocal : Juna Serita / Guitat & Vocal : Takeaki " Takoyaki" Fukuoka / Keyboard & Vocal : Hideaki "De-Hi" Sugiura / Drum & Vocal : MiMi / Sax : Harumo Imai
【reserve】
TEL : 03-3549–6010
(14:00~23:00)
2019.10.26 @  Yokohama paradise cafe .
Juna.