Hey guys!!! I'm  a bass guitar player Juna Serita!!
This morning when I woke up I was so tired , but I was  so grateful at the same time .
To be honest I was so afraid of yesterday 's show  …  I know people can compare with the last show .  but many people said to me the show was greater than last one !!!
It made me motivated a lot for my solo project . Now I  got tons of ideas for the future . So excited to do it .!!!
BTW
Today was Giga Bar day . The keyboard player was Emi from TOKYO GROOVE JYOSHI!!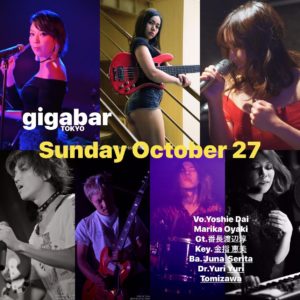 Playing with Emi is really rare unless it is  TOKYO GROOVE JYOSHI.
And TGJ 's producer came to check how we do .lol
Time flied . It was so much fun .
See ya!!
---
Juna Serita " The Princess of Funk "official Music Video 
【Juna Serita Schedule】
* Juna Serita Birthday Party *
2020.1.12 @ Sankenjaya Grapefruit Moon
Open 12:10 Start 13:00 2ステージ 途中休憩あり
MC : 予約 3,500円 当日 4,000円 (飲食代別)
Juna Serita (Bass & Vocal)  / 福岡"TAKOYAKI"丈明 (Guitar & Vocal)  / 杉浦"DE-HI" 秀明 (Keyboard & Vocal)  / MiMi (Drums & Vocal)
Juna.