Hi guys !! I'm a bass guitar player Juna Serita!!
Today I had weekly live streaming called Juna's BASStream #16 !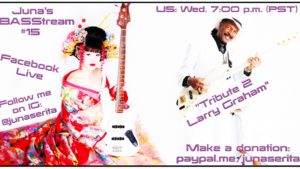 Today I featured one of my bass heroes, Larry Graham !!
His slap is funky as hell !!
I played 5 songs of his , and 4 of 5 songs were slap songs .
I'm pretty sure the people who follow me love Larry Graham♪
It was so much fun to practice his songs .
Thanks for watching Today's BASStream , also appreciate for your donation too 🙏
Well, as I said through today's live streaming, I'm gonna take break of Juna's BASStream.
I have no shows , no live streaming ….  maybe you will even wonder whether I'm still alive or not .lol
You can check how I'm doing through my patreon page .  Also you can check today's Juna's BASStream's back number or archive (student or trainer plan).
See ya!!
---
💗Become a patron of Juna 💗
---