Hey guys!!  I'm a bass guitar player Juna Serita !!
OMG I didn't know at all but my music video The Princess of Funk is #1 on the popular web bass magazine  called No Treble's most watched video in January 😍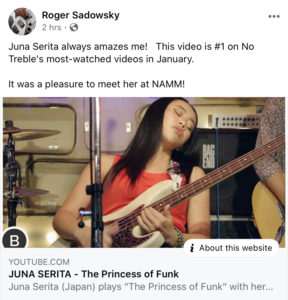 Thanks Roger for sharing it ! I didn't know till I saw his FB post ! Also I always enjoy playing Sadowsky bass guitar♪
Today finally TOKYO GROOVE JYOSHI member and producer arrived in NYC!!
I stayed in Brooklyn by myself through air bnb but moved to manhattan : )
And at night , we went to a legendary bar called Sugar Bar !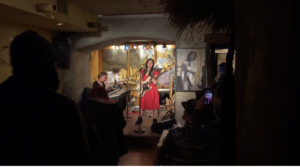 We played one song as TOKYO GROOVE JYOSHI
TGJ will have two shows in NYC and it is first overseas tour for TGJ.
See ya!!
---
Juna Serita " The Princess of Funk "official Music Video 
Juna.