Hey guys!! I'm  a bass guitar player Juna Serita!!
It was the second day of my album  recording .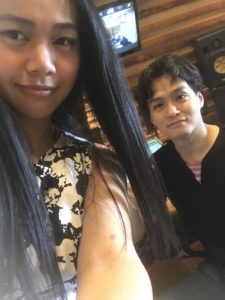 This is the engineer Kato-san : )!! He is young but incredible !
Today we record tap sounds with my favorite tap dancer MIU.
She is still 19 years old , but already worldwide dancer .
I came up with the idea to involve her on my abum ,and I wanted to record her tap in August . However I knew she won't be in Japan in whole august .lol
That's why I re-fixed recording schedule August to July  .
Now I'm so glad to have her sounds !!! My decision  was right !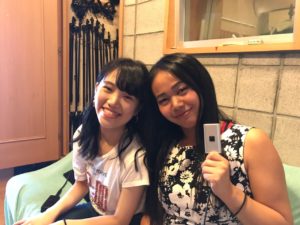 Thanks MIU, and have a nice trip !!
And at night I had a gig for Rita Nishikawa at Ueno warrior celt.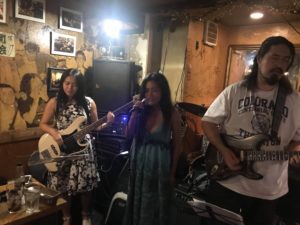 Today's member
vocal : Rita Nishikawa
guitar : Tsuruta-san
bass : Juna
drum:Motonosuke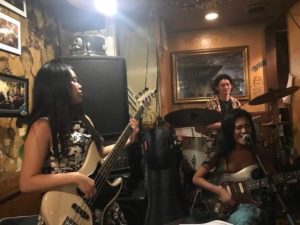 Always fun to play with her .  She is my buddy .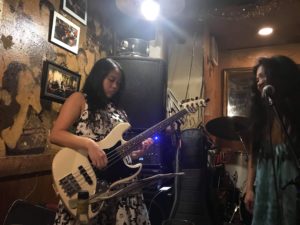 And also I was happy to play some TOWER OF POWER's songs . It's my favorite band, and I do love Rocco's play.
I put some of his essence into my original songs too ; ) !!
See ya!!
---
【Juna new video】
【Juna Serita Schedule】
2019.9.16 (Mon)
BLUE MOOD @ Shiodome , Tokyo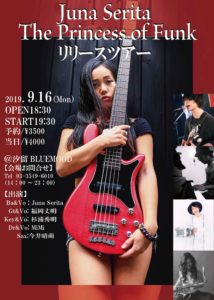 Open : 18:30 / Start :19:30
予約3,500円 / 当日4,000円出演
Bass & Vocal : Juna Serita / Guitat & Vocal : Takeaki " Takoyaki" Fukuoka / Keyboard & Vocal : Hideaki "De-Hi" Sugiura / Drum & Vocal : MiMi / Sax : Harumo Imai
【reserve】
TEL : 03-3549–6010
(14:00~23:00)
2019.10.26 @  Yokohama paradise cafe .
Juna.