Hey guys!! I'm  a bass guitar player Juna Serita!!
Today I had a performance at Tokyo City Keiba. I performed only three songs .
I'll be here tomorrow , and day after tomorrow too ; )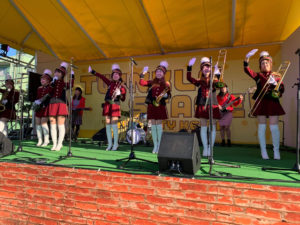 After TCK, I headed to Noah in Gakugeidaigaku.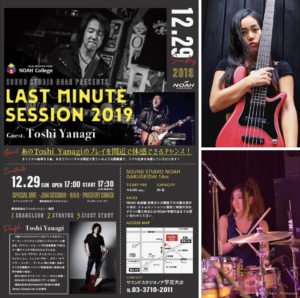 I and the drummer Emi had a performance  with the greatest guitar player Toshi Yanag at his  guitar workshop i !
He is based in LA , Cali. Playing for the popular TV show called "Jimmy Kimmel Live !" and also  perform with variety of artists / musicians such as James Brown , George Benson, Sheryl  Crow.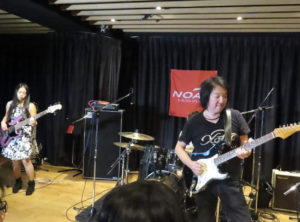 He can handle every genre , but I guess rock is the best . We performed some rock songs (composed by Toshi ) , Progressive songs , ballade.
We get know each other in LA ,so I'm happy that we play together now !!!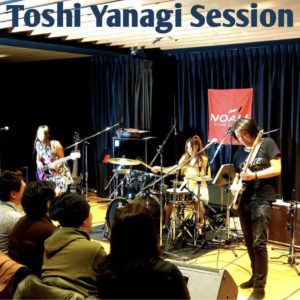 His guitar playing is truly amazing, and I got inspired a lot .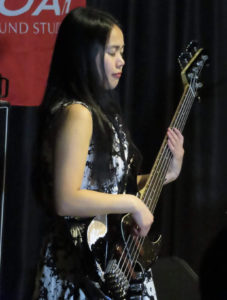 Thanks for the great opportunity. Thanks for coming everyone !!
See ya!!!
---
Juna Serita " The Princess of Funk "official Music Video 
【Juna Serita Schedule】
💖Juna Serita バースデーライブ💖
2020.1.12お昼 @ 三軒茶屋グレープフルーツムーン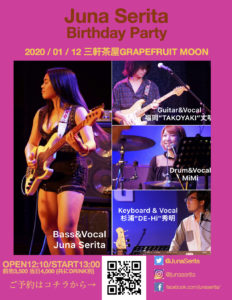 Open 12:10 Start 13:00 2ステージ 途中休憩あり
MC : 予約 3,500円 当日 4,000円 (税込・飲食代別)
Juna Serita (Bass & Vocal)  / 福岡"TAKOYKAI"丈明 (Guitar & Vocal)  / 杉浦"DE-HI"秀明 (Keyboard & Vocal)  / MiMi (Drums & Vocal)
Juna.