Hey guys!! I'm a bass guitar player Juna Serita!!!
Today I cooked for the first time in LA .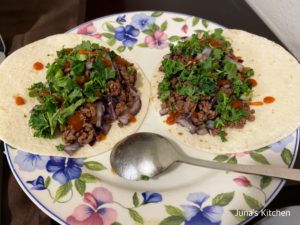 This is Taco ,  when I come to the US, I do love to eat Taco!!!
but I gotta save money because this trip will be one and half month so it's longest trip I've ever had in the US. So I should cook as often as possible ; ) not eat out.
Today I went to see Japanese body builder called Masa (Masashi Otani).
He used to be a pro wrestling player but changed his mind and moved to LA and became a professional body builder in LA! lol
The gym he always use has so many equipment . I even didn't understand some of them how to use it.
After the gym, we went to Korean BBQ all you can eat  .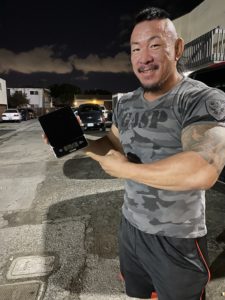 Masa will have a competition in March , so now he is on   a diet . He can eat only 300 g meats without fat . That's why he brought weighing scale .
I was wondering why he come to all you can eat in spite of that he can't eat at all .  according to him,
Masa「I feel really happy if somebody eat a lot.  because I can't eat . I want somebody to eat instead of me .And also it will be my mental training too. 」
Wow interesting .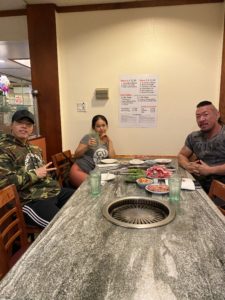 From the left side of the picture , Akki(Masa's friend), me . Masa.
See ya!!!
---
Juna Serita " The Princess of Funk "official Music Video 
Juna.