Hey guys!! I'm a bass guitar player Juna Serita!!
Today is Stevie Wonder's bday !!! He is my pop hero !!
I upload new video which is cover of Stevie Wonder song Dark 'n' Lovely.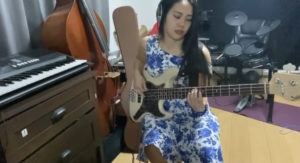 Well, I've been working on all of other instruments through this quarantine term, but this time I played only the bass guitar ! It might be kinda rare .lol
Please check it out!!!
And leave comments and share if you like it ♪
 ♪  Dark 'n' Lovely – Stevie Wonder (cover )  by Juna Serita   ♪
This one-piece dress gifted by my elder sister . Thanks my sis
See ya!!
---
💗Become a patron of Juna 💗
---
♪ Juna Serita live stream every week ♪
+ JUNA's BASStream + on Instagram live
Please follow  IG @junaserita and be ready  ♪
Start at each local time
USA : Wednesday 7 :00pm (PST) / 11:00 pm (EST)
Brazil : Wednesday 11:00 pm 
UK : Thursday 3:00 am 
France : Thursday 4:00 am (CEST) 
Indonesia: Thursday 9:00 am (WIB) 
Japan: Thursday 11:00 am
etc…
tip ⇨ http://paypal.me/junaserita
---
Juna Serita new single  "KAFUNSHO "official Music Video 
Juna.