Hey guys!! I'm  a bass guitar player Juna Serita!!
This morning I flied to NY from LA !!! I'll miss LA peeps .. pretty sure …; (
Thanks for the great time . This will be my first NY trip in my life . Let's see how it goes …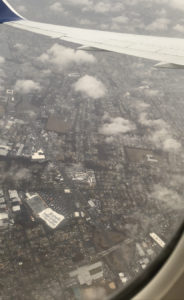 This is the view from the flight . looks cold…?
After arrived at the airport I headed to the accommodation in Brooklyn. And searched any event in Brooklyn. ( I didn't wanna go too far today ..)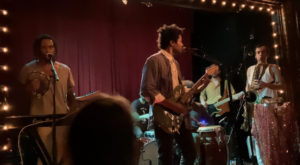 And found a event . They were playing kinda soul / rock .
The harmony of the vocal & chorus was beautiful . There were many guest musicians too.
I was on  a fence whether I go to another place to listen to any music after the show or not . but I felt really tired , and cold , and sleepy …..
So I ended up to drop by grocery shop and buy some stuff and go back .
but some shops are ….. you know … smells not good  ; (   ummmmm  I didn't wanna stay inside too long . And also they didn't have the things I needed.
I'm getting really worried about my NY trip ; (  I know nothing . I event haven't try bus or train yet …  It makes me really scared ..
but I know how to make the trip fun . It's totally up to me . If I go active that will be super fun ! I gotta handle !!!  from tomorrow …
See ya!!!
---
Juna Serita " The Princess of Funk "official Music Video 
Juna.