Hey guys !! I'm  a bass guitar player Juna Serita!!
Today I went to the gym for the first time in a while.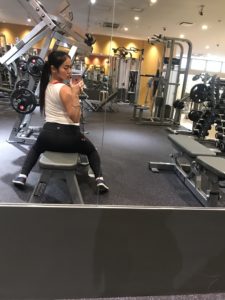 I trained my lower body. I was there only for 1 hour.
https://www.facebook.com/junaserita/videos/1316615145149219/
I hope I'll get muscle pain tomorrow or day after tomorrow .
At night , I had a performance at Giga bar Tokyo .
I always take videos for checking how I was playing .
今日撮った動画たちはなぜか全部ボヤッとしてた

撮る位置のせい、、? pic.twitter.com/o1IEFzFm11

— 芹田 珠奈 (@JunaSerita) May 16, 2018
Today's all videos look weird .. I can't see that well .  I have no ideas why it happened tho..
I still have a lot of songs that I need to prepare. uhhh it's so hard….I often think I wanna sleep all day without any pressure  ….
but I know , after I finished them , my performance will be better than now ; )  I'll just go ahead .
See ya!!
_________Pickup event schedules ________
💖5/20 Lab.  @ Fussa Cafe de Noel
💖6/23 yolis & Juna  @Jiyugaoka hiphen
💖Juna Serita Band @ 下北沢RPM
_________________________
Juna.