Hey guys!! I'm a bass guitar player Juna Serita!!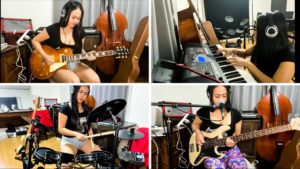 Today I uploaded new cover video by All Juna Band on my youtube channel ; )!
This song is the legendary blues man Albert King's song "The Blues Don't Change".
First I heard this song, I thought I wanna play this drums !!
It sounds simple , but I felt so much soul .  I was practicing with the original audio , but in fact the timing of snare was difficult for me . If I try to hit the snare a little bit late , always my kick go much more late .lol  ummmm
I've learned cool Hi-hat technic also fill phrase that I've never played .
but …. you know …. The most difficult point is
GUITAR
I tried to copy the phrase , but …it' s not complicated and fast . but DIFFICULT
I played again and again and again and ×999999999999999999999999 but I couldn't done the ending guitar solo . So I fade  out sooner than original …; (
Now I'm mostly practicing drums day by day , but I should add guitar practice too.
Anyway , please leave comment or thumb up  from Here if you like it !!
Thank you : )
See ya!!!
---
♪ Juna Serita live stream every week ♪
+ JUNA's BASStream + on Instagram live
Please follow  IG @junaserita and be ready  ♪
Start at each local time
USA : Wednesday 7 :00pm (PST) / 11:00 pm (EST)
Brazil : Wednesday 11:00 pm 
UK : Thursday 3:00 am 
France : Thursday 4:00 am (CEST) 
Indonesia: Thursday 9:00 am (WIB) 
Japan: Thursday 11:00 am
etc…
tip ⇨ http://paypal.me/junaserita
---
Juna Serita new single  "KAFUNSHO "official Music Video 
Juna.