Hey guys!! I am a bass guitar player Juna Serita!!
TODAY'S MEAL MENU!!
breakfast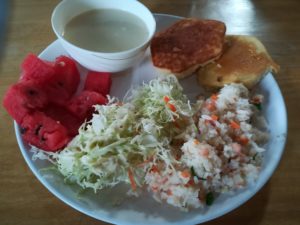 lunch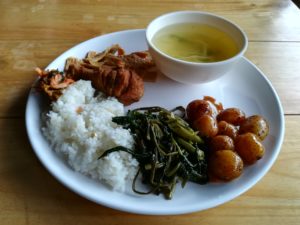 dinner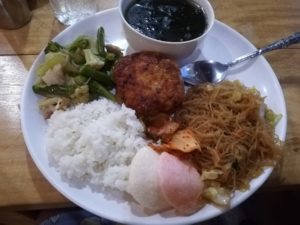 Finally, I could come back to dorm!!
There are too much cockroaches in the office building… I saw them everyday . lol Probably they have thought we are already friend…No way.
I'm so happy to come back . But today, my best friend Rocky left here .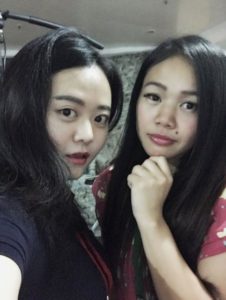 I have many memories with her.  She has called on me everyday while I've stayed in the office building because of sick.
She said to me 「You are my little sister. So I am always worried about you .」
Thankful my elder sister. I never forget you.
Above them, today , I have to move to another room.
My plan was 6 people room but when I came here , it was full. That's why I have to change my room now.
I'm really sad to be not room mate with Jenny. She is also take good care about me always …. And I like her cute hip so much….
When I got to new room, I introduced myself simply .
Then , a woman asked me
woman「Hey, what's this??」
Juna「It's a bass guitar. My instrument.」
woman「Really!?!? Can I borrow this?」
Juna「Oh okey.」
woman「Ahhh  finally I could play the bass guitarrrrr!!!!」
My new roommate, she is Japanese woman.  She seems to be a bass guitar player and she has own band in Okayama, Japan.
It is interesting meeting.lol
Other roommates are Taiwanese , Vietnamese , Chinese, and so on…
Now I haven't had many conversations with them, but I'm sure they all are very kind and good guys.!
I hope I'll have good relationship with new roommates.♪
Juna.