Hey guys !! I'm a bass guitar player Juna Serita!!
Yesterday I worked out on my butt at the gym but when I got up this morning ,I did not feel that I have muscle pain on it . So today also trained my butt !!
I did Leg-press with 62kg weights .  When I heard a female singer does Leg-Press with 62 kg , I got shocked 'cause that sounds damn heavy ! I had never tried with it , but it was actually not TOO heavy . Now it became decent for me. Am I improving ; ) ?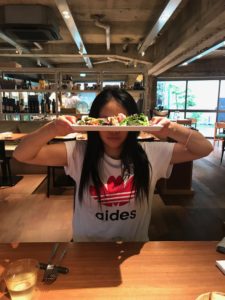 After the gym , I had a lunch meeting with Kaneko-san who is the producer of my band called TOKYO GROOVE JYOSHI.
Recently we're planning many new stuff ; ) !  It must be fun.
The restaurant was great atmosphere btw. I felt I wanna take my mom when she comes to me next time ….
See ya!!
~~~~~~~~~~~~~~~Pick up event ~~~~~~~~~~~~~~~~
*5月1日 Ba.Vo 芹田珠奈 & Pf.Vo.Ako & Vo.Tb. Sasammy@赤坂おむすびjazz
*5月8日Ba.Vo 芹田珠奈 & Pf.杉浦秀明 @銀座おむすびラウンジ
*5月12日TOKYO GROOVE JYOSHI
昼:宇都宮オリオンスクエア / 夜:INDULZ DREAM宇都宮
*5月14日TOKYO GROOVE JYOSHI @赤坂クローフィッシュ
*5月20日 Ba.Vo 芹田珠奈 & 久保奈津実 @ 銀座おむすびラウンジ
*6月15日 Juna Serita凱旋ワンマンライブ@石川県片町ジェラスガイ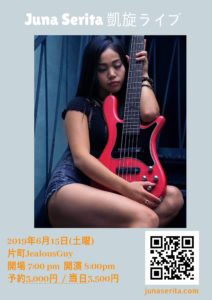 各詳細は SCHEDULE  からご確認ください。
---
Juna's Bass Lesson !!
5月から個人レッスンがスタートします。
お申し込みはこちら↓から⭐︎
---
Juna.