Hey guys !! I am a bass guitar player Juna Serita!!
I feel that I enjoy this weekend too much.
Actually , I had another plan with my Taiwanese friend Pai this Friday . Above all I said it first.lol
But when I talked to her about my batch mate farewell party , she allowed to reschedule  our plan  .  I pretty appreciate for her kind. So today we went to eat out instead of Friday .
First , we went to SM mall for buying needs. The thing I want was only umbrella .
And then , we went to a restaurant called CANTO on foot.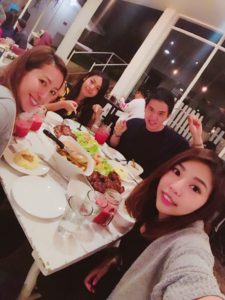 Haru(Japanese), Juna(Japanese),   and… oh I forgot his name… I need to ask him later. He is from Korea. Very gentle and smart guy.  And Pai(Taiwanese ).
Japanese friend Haru recommended CANTO to us. It seems that she heard about this restaurant from her roommate. She always takes good care of her health that's why her body is slim .  Above them , I thought  there would be great protein there  if she says nice!! And Haru looks like a Japanese male bass guitar player「Backy 」.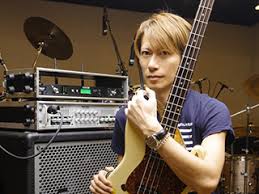 He was producer of SORAMIMI. Big eye, slim body , how to make smile,,,Her all is similar to him. lol
Anyway, that foods were awesome !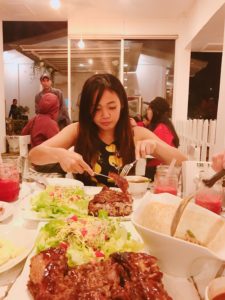 We enjoyed having big stake and fresh strawberry juice , nice beef stew,and so on.  It was  very delicious and I was over the moon. However Pai didn't like this meat , so I feel sorry for her….
After that,  Pai said she wants to see my bass play. We went to the bar concoction.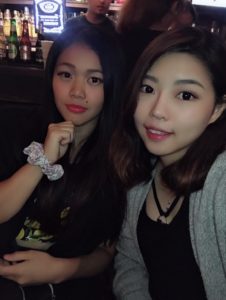 The host band was also same with last time. I was really happy they remember me .  The vocalist called my name through the microphone on the stage, and I joined them.
Then I knew the bass guitar player is a multi player! I borrowed his instrument as a result  he played the guitar instead of bass without pick.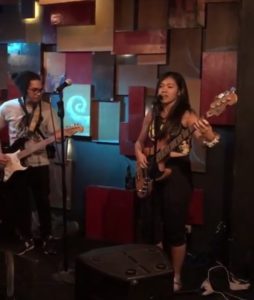 I was thinking I would be unable to play with him because we're  same instrument, but we could ! I was in seventh heaven♪
I had a fun time today, too. Thanks everyone.
Juna.