Hey guys !! I'm a bass guitar player Juna Serita !
Recently I can't fall a sleep well.  If once I got sleep , I don't get up easily , but just get sleep is difficult and kinda stressed me out ; (
I used to start sleep in the morning and got up like noon . But I wanna reset my life time wanna go to bed and wake up healthier like 11:30 pm to 5:30am.
Also I have a lot of dream . Today's my dream was , I've started Skype lesson officially . But , I got late 7 minutes to the lesson . The people around him ( one of my students ) got really mad at me . And even when I got on a plane , all passenger pointed me  and said 『She got 7 minutes late for his lesson ! 』something like that …
sorry that I got late … seems like my name will be changed to " 7 minutes – late " .
I hope I will not get late to lessons after I officially start online lessons .
Btw today I was practicing drums a little bit . I 'm working on 16 beats hi-hat .
Always have sooooo many songs that I wanna play the drums . But most of them are 16 hi hat . I really can't handle that…

Juna Seritaさんの投稿 2020年4月20日月曜日
it's still difficult , but I can tell I'm much better than yesterday  . That gives me motivation for keep going : )!
my next live streaming JUNA's BASStream vol.2 , I might play the drums only one song … I don't promise , but I'm trying to prepare for that … I'm pretty sure I'll get seriously nervous . Lol
but I do love to challenge!
please don't miss JUNA's BASStream vol.2 !!
See ya !!
---
♪ Juna Serita live stream every week ♪
+ JUNA's BASStream + on Instagram live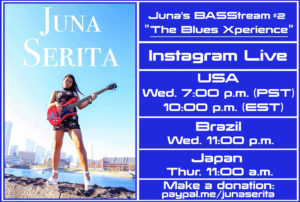 Please follow  IG @junaserita and be ready  ♪
Start at each local time
USA : Wednesday 7 :00pm (PST) / 11:00 pm (EST)
Brazil : Wednesday 11:00 pm 
UK : Thursday 3:00 am 
France : Thursday 4:00 am (CEST) 
Indonesia: Thursday 9:00 am (WIB) 
Japan: Thursday 11:00 am
etc…
tip ⇨ http://paypal.me/junaserita
---
Juna Serita new single  "KAFUNSHO "official Music Video 
Juna.