Hey guys !! I'm a bass guitar player Juna Serita !!
Today I cooked dinner for the first time in a while . I usually eat out .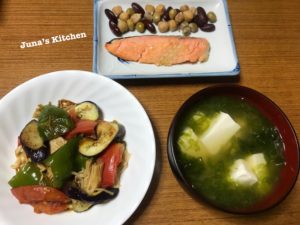 〜Juna's Kitchen 〜
・stir fried vegetables
・miso soup which has tofu and seaweed
・cooked salmon and beans
I had lived by myself for 4 years but I felt lonely to eat dinner  alone at home . No prob tho ..
I hope my grandma will get better soon and come back home . ( she is hospitalized now..)
BTW!
Today I have one thing that I wanna get the word out !!
That is about Juna Serita Band !!!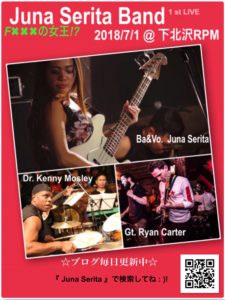 I created a flier for our first gig  !! So cool , isn't it ?? I might have a sense 😍
Well , I wanna introduce about the member !!
First , the drummer Kenny Mosley !!
I met him for the first time when I was 19 years old . A guitar teacher in university invited me to play together at the gig , then the drummer was him !
Actually I couldn't understand English at all and Kenny don't understand Japanese ( I doubt him tho.. lol ) . So we just talked only a little before playing together like Hello, nice to meet you , that's all .
However when the performance started , I got shocked !! He is the kick-ass drummer !!  Since then, I've thought I wanna play with him more and more !!
Next , about the guitar player Ryan Carter!
We actually got to know each other very recently .  He can handle all genre , not only the guitar , but also other instruments like bass, drums , keyboard , etc…! Especially he is great at bass guitar , I got so jealous when I heard it lol.
When I had sessions with him , I felt he makes songs more attractive. Kind of an arranger !  So I came up him first when I form my own band !!
To be honest , I'm a little weak . Basically negative thinking .  Therefore when I ask them to play with me in my band , I was so afraid ….
But they said  " It would be my pleasure to play in your band " . ; (!!  How sweet they are !!
I can't wait to perform with them !
Anyway please book your schedule now for my band's gig on July 1st !!
See ya !!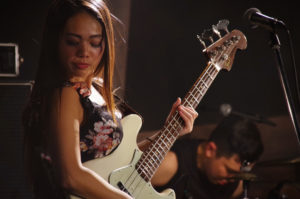 Photo by RAVI IZAWA
_________Pickup event schedules ________
💖6/23 yolis & Juna  @Jiyugaoka hiphen
💖7/1 Juna Serita Band @ 下北沢RPM
_________________________
Juna.