Hey guys! I am a bass guitar player Juna Serita!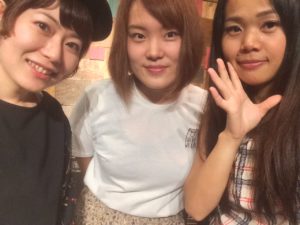 I was a session host with the member at w.jaz in Nishiogikubo,Tokyo.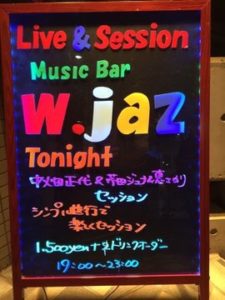 Keyboard: Yuri Edo
Drums : Masayo Nakahata
Bass: Juna Serita
Actually I had a teeth pain in the afternoon, it was a hard time. However when I was playing the bass guitar at the session, I forgot that I have the pain.
Probably I should keep playing the bass all day…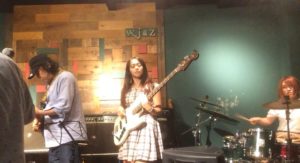 The jam was so fun! I miss you guys 'cause I won't be able to see you guys for a while.
Oh, suddenly a vocalist talked to me in English there.  I'm sure that he is good at English , He always sing English songs and posts the comment in English on my SNS . I couldn't response so quickly. I was embarrassed.lol  However It was a good practice for me, thanks. He is always smart and has a good sense of humor. My good friend.♪
And fan gave me foods , protein , cute T shirts  as presents.
This is very popular sandwich among women. I've never eaten this, but I have just heard and watched about it .
It was difficult to eat elegantly because it's so big. But very healthy and delicious!! I liked it.
And T shirt and protein!!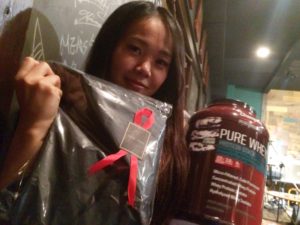 I heard that the protein is the most delicious  as far as he knows. When I came back to home, I tried! Exactly, it was fantastic!! I was very impressed.  I'll treasure it.
I don't have the photo of T shirts, but the shop name is…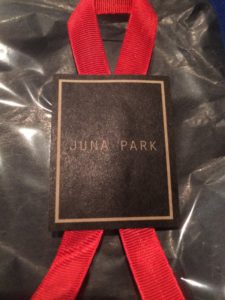 JUNA PARK
・・・・・・
Am I park・・・・・!?
Anyway, I'll wear this while study abroad !
THANK YOU!!!!!!
Juna.