Hey guys!  I am a bass guitar player Juna Serita!!
TODAY's MEAL MENU
breakfast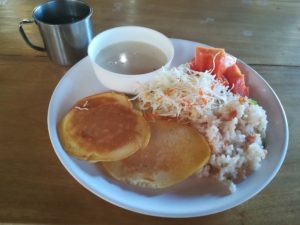 Pan cake / papaya / stir fried rice / fresh salad /  clam chowder / black coffee /
lunch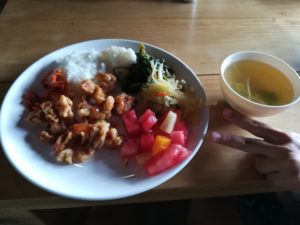 deep fried chicken / water melon and pineapple / rice / kimchi / bamboo shoot / spinach / beans sprout /
dinner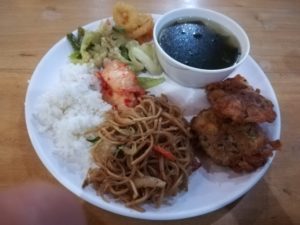 seaweed soup / stir fried noodle / rice / hamburg / kimchi / deep fried onion / broccoli and some vegetable /
Definitely I hate to be absent from all classes anymore.!!
I send Japanese manager to see if I can attend class from today.
Juna 「Can I attend class today !?!?」
Manager「How about the condition of your left eye? If it's perfect, you can attend.  Otherwise, some students would be afraid. Is the congestion getting better?」
「(Photo)This is today's my eye.」
「How about eye mucus?」
「I removed it this morning already. I think sometimes it come out.」
「Well, if you feel icchi or eye mucus come out , make sure to take care with a handkerchief and wash your hands every time.」
「!!! Thank you !! I'll going now!!!!!!」
「However If some students or teachers would be  afraid, then I will not let you attend all classes again. lol  Take care! 」
As a result , I could attend all class today!!!!! REALLY HAPPY!!
Actually my eye is still kind of red. Although I can understand it's getting better little by little.  I think it takes another 3days.
But when I stayed in the office building  alone, the chance to have English conversation with someone is few. So I was very nervous when I have to speech about my opinion in the group speaking class.
I need to undergo rehabilitation .
Juna.