Hey guys!! I'm a bass guitar player Juna Serita!!
TODAY'S MEAL MENU
breakfast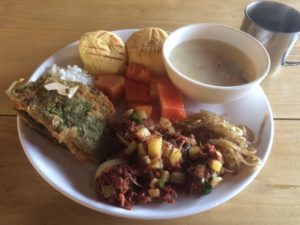 bread / deep fried leaf / minced beef / soup / papaya / gelidium jelly
lunch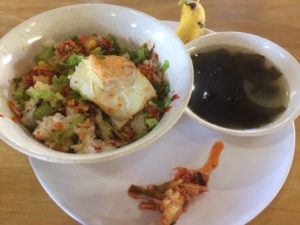 bibimbap / kimchi / seaweed soup / banana/
dinner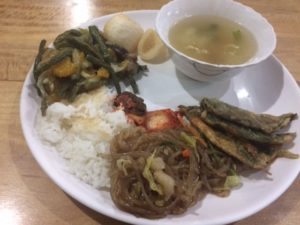 fried leaf / boiled vegetables / rice crackers / Gelidivum jelly/ kimchi /
in December 17th  I'm gonna have  a gig for the first time after studies abroad at Strawberry fields in Komazawa, Tokyo,Japan.
It's about to be presented by a young singer songwriter Kahori!!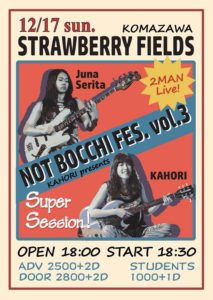 We met each other at a gig in Shinjuku when the band SORAMIMI was active.
She was playing guitar and singing at the time. Her guitar play knocked my socks off when the time of sound check .Cause maybe she was in junior high school then.  I thought why such a young girl can play the guitar correctly .  Above them she knows enough  old good music like blues, funk, and so on. This is only one of her charms.
She write her own songs and make backing track herself. That's why she is so young but she can keep her music activities even through her ex.band stopped.
That day the acts are only Juna Serita and KAHORI. I  suppose we'll perform 40 to 50 minutes each act.  When I normally have a gig as a solo,  almost a half of the set list is instrumental music without vocal. However now, I've been studying here in the Philippines . So , I think I ought perform as BASS&VOCALIST with English lyrics.   I say so ,but  I'm beside myself with uneasiness. I was thinking I wanna perform more cover songs than usual . Of course I also play my own songs . I'm trying to translate into Japanese to English my lyric … It is task work..
Although , I need to bite the bullet if I wanna go growbal.
Anyway, I'm looking forward to showing you my new performance in December 17th!! Cope with your schedule, please♪
Good night.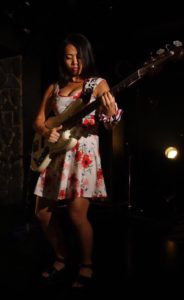 Juna.