Hey guys!! I'm a bass guitar player Juna Serita!!
TODAY'S MEAL MENU
breakfast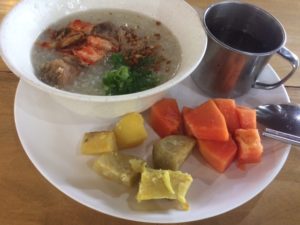 papaya / potato /black coffee / watery cooked rice /
lunch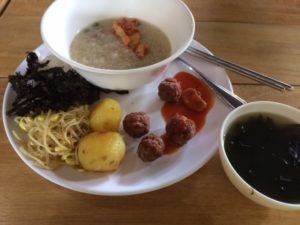 watery cooked rice / meat ball / potato / beans sprout / seaweed / seaweed soup /
dinner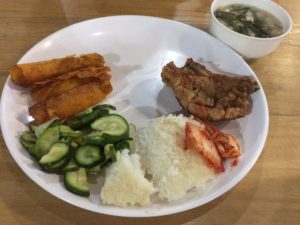 deep fried banana spring roll / kimchi / soup / chicken / cucumber / rice /
Regularly , Saturday and Sunday are holiday in the school.  Since we had long vacation,  there are classes today as per usual .
My new speaking teacher is so funny. I can speak with her without nervousness in spite of introverted . This is because I was often dancing with her before dinner in front of the dining room .  She is a good dance couch ;in addition , she is a good English teacher.
I leaned about the system of IELTS speaking exam today.
Seems like it is kind of complicated ….
For instance,
・Focus on the topic invariably 
Even if I talk about example or experience, I need to get back to the topic soon. (I'm not good at this..)
・If I use idioms , it should be maximum 5
I do like idiom….. It's a bad news for me…
・Using same word in the other way can let me to get high score.
"I like healthy food . I'm old yet, so I need to take good care of my health."   Maybe like that.
・Use middle level word besides basic level.
For example,  live → reside  and so on.
・Don't use too many uncommon word.
The important thing is balance…
・The response ought to  be about 3 sentences . 
Too long speaking make the examiner get sleep. And also too short speaking wouldn't be understood how much I have skills.
・Using other vocabulary to the question .
Ex.
*examiner 「Where do you live?」
Juna「I live in Baguio now.」←normal
「I am a resident of Baguio City」/ 「I currently reside in Baguio.」← I can get score!!
*examiner 「What is your favorite food?」
「My favorite food is meat .」←normal
「I love eating meat!」←normal
「I'm into eating meat, especially , chicken!!」/「Eating meat is a cup of tea!」←I can get high score.
Ohhh    It beats me….
It'll be hard on me.  Although , I'm submissive  If I had to say.  Which mean, no dram.♪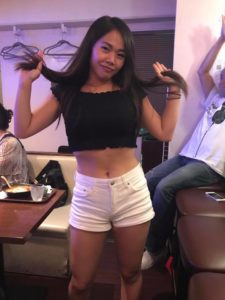 byebye.
Juna.