Hey guys!! I'm a bass guitar player Juna Serita!!
TODAY'S MEAL MENU
BREAKFAST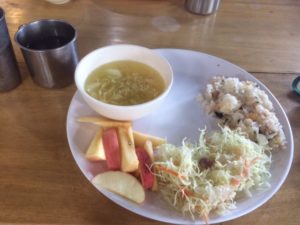 fresh salad / apple / stir fried rice / ramen / black coffee/
lunch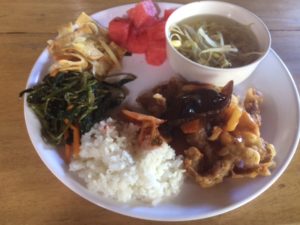 rice/ water melon / deep fried chicken / beansprout soup  / deep fried tofu / spinach /
dinner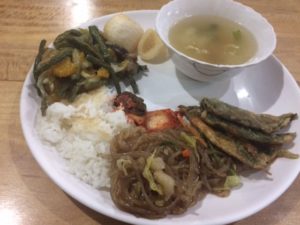 rice / kimchi / soup / stir fried vegetables / fried leaf / like spring line  /
Today, my speaking 1 on 1 class teacher was absent from the class. So I attended another teacher's class.
He looked like around the same age with me .
Teacher 「Do you know me!?」
Juan 「Ah…. Sorry I don't know , it's the first time I meet you ,right?」
Teacher 「Noooooo!! You're Juna , right!? We ware talking at front of the gate last Friday!!」
Juan「Oh… Yeah ! I know you!! Did you have a hair cut ??」
Teacher「Nooooooooo!! same same!!!」
Oh… My brain always doesn't work well… I fell sorry for him. I suck at remembering person's name or face. It would be big problem..
His speaking was very fast. I think I am a English beginner , although he didn't take care of me.lol
Teacher「How long have you studied English?」
Juan「I have been studying for almost 1 year,on and off .」
Teacher 「Oh  why can you communicate with me ? You often watch English movies?」
He knocked my socks off cause I never had  confidence of my English communication skills. Generally I ask what the person said again and again .  And it also  takes time to organize my sentence for speaking.
I'm also not sure why I can understand his speedy speaking. However compared with other teacher, I felt easy to understand.
Above them, he used some no popular vocabulary to us.  Most teacher normally chooses simple words like junior high school level.  probably we can understand easily but we don't remember new vocabulary . I thought this young teacher is great !! I was anxious to have much more conversation with him . Time fries.
We can change our teacher, but In this school's system, we can't choose teacher myself.
It was just nice meeting  him. I hope talk to him again someday.
Juna.