Hey guys!! I'm a bass guitar player Juna Serita!!
Today I had a rehearsal with a guitar player Shoka Okubo and drummer Makotomo Sonohara.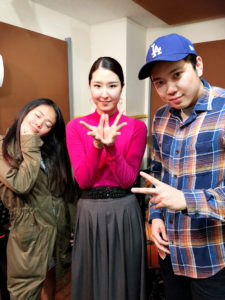 We will have a music tour in the middle of March .   I really like both Shoka and Makotomo, they are not only awesome musicians,but also my friends .
If you've never seen our performance, check it out first!!
I'm pretty sure we'll play this song on the tour , too.
After the rehearsal, I had a performance at gigabar Tokyo .
I played this song for the first time in a while.
If I ain't got you .  The song has grown on me after I understood what the lyrics means.
I lost a train btw ; (  I  wanna go back to home soon…. uhhh sleepy.
See ya!!
Juna.