Hey guys!! I'm a  bass guitar player Juna Serita!!
Today I had weekly live streaming called Juna's BASStream 🎸!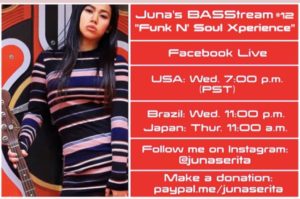 Today I didn't go any specific artist but variety of artists who has funky soul song !
and I did only female singer since I noticed I mostly have played male artists so far .
本日のお気に入りベースライン pic.twitter.com/Dm3M3HRXYE

— Juna Serita@new EP Funk you ! リリース (@JunaSerita) July 2, 2020
i didn't mean it but I noticed most of the songs were slap bass !
I practiced several days and did live streaming but feels like I've been slapping whole day everyday lol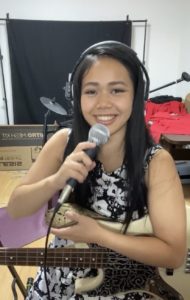 anyway thanks for watching , also I really appreciate for your donation too.
See u next week !
---
💗Become a patron of Juna 💗
---
♪ Juna Serita live stream every week ♪
+ JUNA's BASStream + on Instagram live
Please follow  IG @junaserita and be ready  ♪
Start at each local time
USA : Wednesday 7 :00pm (PST) / 11:00 pm (EST)
Brazil : Wednesday 11:00 pm 
UK : Thursday 3:00 am 
France : Thursday 4:00 am (CEST) 
Indonesia: Thursday 9:00 am (WIB) 
Japan: Thursday 11:00 am
etc…
tip ⇨ http://paypal.me/junaserita
---