Hey guys!! I'm a bass guitar player Juna Serita!!
Today I had Juna's BASStream #11  ~Originals ~!!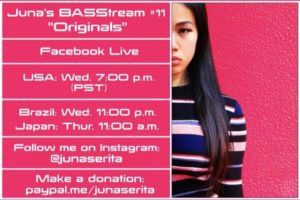 Through my live streaming , I only done one time that I played only original songs .  That was #1.
So I thought I wanna do my original songs once in  10 times . Because I gotta promote my songs too ! lol 
Today I chose from my current EP Funk you !, also from my last EP  The Princess of Funk.
・ The Princess of Funk
・ All I do 
・ KAFUNSHO
・Tokyo
・B-ASS
・Hey Boy!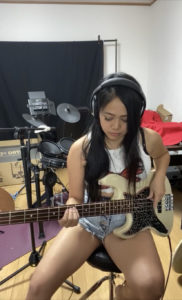 Thanks for watching , also really appreciate for your donation too!
Next Juna's BASStreaming , I 'm kinda thinking to pick up reggae pop  artist ..also bass player …
Probably you already can guess who he is ♪
See you next week !!
---
💗Become a patron of Juna 💗
---
♪ Juna Serita live stream every week ♪
+ JUNA's BASStream + on Instagram live
Please follow  IG @junaserita and be ready  ♪
Start at each local time
USA : Wednesday 7 :00pm (PST) / 11:00 pm (EST)
Brazil : Wednesday 11:00 pm 
UK : Thursday 3:00 am 
France : Thursday 4:00 am (CEST) 
Indonesia: Thursday 9:00 am (WIB) 
Japan: Thursday 11:00 am
etc…
tip ⇨ http://paypal.me/junaserita
---
Juna Serita new MV "Tap da Bass" feat. MIU