Hi guys !! I'm  a bass guitar player Juna Serita!!
Today I had Juna's BASStream #10 !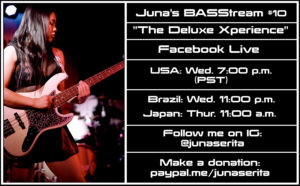 10 is kinda special number , so I did deluxe version of Juna's BASStream.
I picked up one song from each BASStream I've ever done, and played.
There were many songs , so I believe I didn't talk too much but I was live streaming over 1and half hour.
https://www.instagram.com/p/CBkf-AyHxuf/
If you missed it  , you can watch the archive / Back number on my pattern page (Student and Trainer plan )
Next Juna's BASStream is ,next week , same time !!!
See ya!!!
---
💗Become a patron of Juna 💗
---
♪ Juna Serita live stream every week ♪
+ JUNA's BASStream + on Instagram live
Please follow  IG @junaserita and be ready  ♪
Start at each local time
USA : Wednesday 7 :00pm (PST) / 11:00 pm (EST)
Brazil : Wednesday 11:00 pm 
UK : Thursday 3:00 am 
France : Thursday 4:00 am (CEST) 
Indonesia: Thursday 9:00 am (WIB) 
Japan: Thursday 11:00 am
etc…
tip ⇨ http://paypal.me/junaserita
---
Juna Serita new MV "Tap da Bass" feat. MIU