Hey guys!! I'm a bass guitar player Juna Serita!!
TodayI had live streaming called 'Juna's BASStream ' #8~A Evening of Soul~!!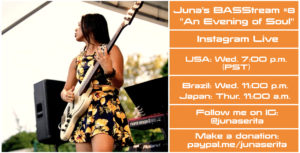 Today is themed soul music . I didn't go only one specific artist , but one song each from 5 soul artists / band.
But actually , the problem is happened …..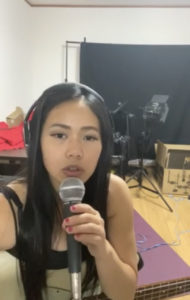 My live streaming got forced to stop by Instagram…. ; ( And they didn't let me re-start again.
I think I've done 2 or three songs , and then banned .  I'm sorry about that .
So , for next week I'll consider maybe new platform .
I'll let you know when it fixed !! 
See ya!!!
---
💗Become a patron of Juna 💗
---
♪ Juna Serita live stream every week ♪
+ JUNA's BASStream + on Instagram live
Please follow  IG @junaserita and be ready  ♪
Start at each local time
USA : Wednesday 7 :00pm (PST) / 11:00 pm (EST)
Brazil : Wednesday 11:00 pm 
UK : Thursday 3:00 am 
France : Thursday 4:00 am (CEST) 
Indonesia: Thursday 9:00 am (WIB) 
Japan: Thursday 11:00 am
etc…
tip ⇨ http://paypal.me/junaserita
---
Juna Serita new MV "Tap da Bass" feat. MIU