Hey guys!! I'm a bass guitar player Juna Serita!!
Sorry I've been late .. so many things going on these days ..
NEXT JUNA'S BASStream is !!!!!
Featuring Lenny Kravitz!!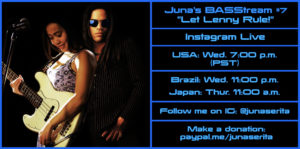 themed "Let Lenny Rule !!"
He is the greatest musician/ artist , but I actually love his back band as well !!
See you at my  next live stream ..!
also if you want to watch the back number or archive , you can check from my patreon!
See ya!
---
💗Become a patron of Juna 💗
---
♪ Juna Serita live stream every week ♪
+ JUNA's BASStream + on Instagram live
Please follow  IG @junaserita and be ready  ♪
Start at each local time
USA : Wednesday 7 :00pm (PST) / 11:00 pm (EST)
Brazil : Wednesday 11:00 pm 
UK : Thursday 3:00 am 
France : Thursday 4:00 am (CEST) 
Indonesia: Thursday 9:00 am (WIB) 
Japan: Thursday 11:00 am
etc…
tip ⇨ http://paypal.me/junaserita
---
Juna Serita new single  "KAFUNSHO "official Music Video 
Juna.