Hey guys!! I'm a bass guitar player Juna Serita!!
Today I had a live streaming called Juna 's BASStream !!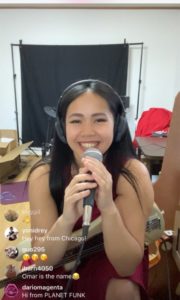 This is number 5,  Tribute 2 Stevie Wonder !   So I played only Stevie Wonder's song !!
I actually tried a new thing . I always used live audio, but today I used great quality backing track from Bobby's Backing Track
This webside has variety of backing track . Mostly minus one vocal, but also you can find minus one bass too ! You can use this backing track for your practicing , youtube cover video,  even your shows.   It's recorded by professional musicians .  The price depends on the song  , some songs might be expensive , but I think worth it .
I gotta say sorry that I could not play well the unison riff of SW's funkiest song "Do I Do"
I feel I'm really weak .  I feel terrible that I couldnt play good enough this song  .
if once I had something like mistake or mistone or something , I just go worth and worth . My hands start shaking and  feels like my body is caught . : (
but you know it's also real ability . If I wanna be better bass player , I gotta beat myself …
and Thanks for the donation too !   Thanks for supporting me .
I'll try my best to be better .
I'm gonna upload today's BASStream on my patreon too , but now some problem happened . It might be really late .. I'll let u  know anyway .
My next live streaming is , the same time , next week !!
See ya!!
---
💗Become a patron of Juna 💗
---
♪ Juna Serita live stream every week ♪
+ JUNA's BASStream + on Instagram live
Please follow  IG @junaserita and be ready  ♪
Start at each local time
USA : Wednesday 7 :00pm (PST) / 11:00 pm (EST)
Brazil : Wednesday 11:00 pm 
UK : Thursday 3:00 am 
France : Thursday 4:00 am (CEST) 
Indonesia: Thursday 9:00 am (WIB) 
Japan: Thursday 11:00 am
etc…
tip ⇨ http://paypal.me/junaserita
---
Juna Serita new single  "KAFUNSHO "official Music Video 
Juna.