Hi guys !! I'm a bass guitar player Juna Serita !!
Today I had live streaming called Juna's BASStream !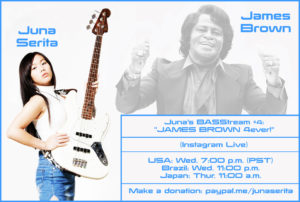 It's my 4th stream. Today 's theme is James Brown 4ever , so I played only James Brown 's song!!(also my  original song)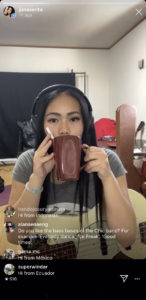 When I was practicing last night, I was almost ready for today. but kinda felt uncomfortable to play the whole song . Because I'm not playing with bands , just bass guitar .And JB's song's bass part is exactly bass. So I came up with that maybe I should mix some songs together .
If you are really into James Brown , I'm sure you noticed which parts I cut and joint , and the parts which was originally there too ; )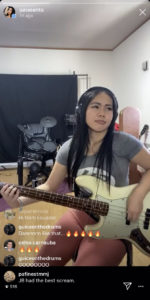 Anyway , thanks for coming see me !! This is only  the day I talk a lot weekly !lol (I normally don't talk . really quiet .)
If you live in the country that you might not be able to watch my streaming because of the time , you can watch the archive or back number through my patreon ⭐︎!!
Please read the tailer , and choose your plan!(The two tailer  of among three , give you access to the archive / back number video !!)
See ya!!
---
💗Become a patron of Juna 💗
---
♪ Juna Serita live stream every week ♪
+ JUNA's BASStream + on Instagram live
Please follow  IG @junaserita and be ready  ♪
Start at each local time
USA : Wednesday 7 :00pm (PST) / 11:00 pm (EST)
Brazil : Wednesday 11:00 pm 
UK : Thursday 3:00 am 
France : Thursday 4:00 am (CEST) 
Indonesia: Thursday 9:00 am (WIB) 
Japan: Thursday 11:00 am
etc…
tip ⇨ http://paypal.me/junaserita
---
Juna Serita new single  "KAFUNSHO "official Music Video 
Juna.