Hey guys!! I'm a bas guitar player Juna Serita!!
Today I had my weekly live streaming called  JUNA's BASStream !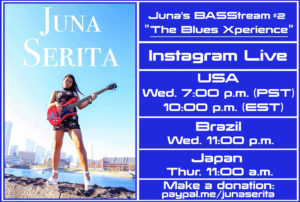 I kinda wanted to take title for each time  . So today is the second time, so I took the theme " The Blues Xperience "!!
When I started to play the bass guitar , even after I started play some blues , to be honest I was not into blues at all.
I mean, I didn't hate it , but just didn't know how to enjoy for both playing also listening .
But one day , I knew a blues man . He is the person who got me into blues !!!!
His name is Stevie Ray Vaughan ♪
You know , when especially young generation get into old school , always there is hook . if it's blues , nowadays many people love John  Mayer, then go to his roots . many people loves Eric Clapton, and then go his roots .  So my case , the hook was SRV. And then went Albert King, BBking, Robben Ford etc…
Today I played several his songs , also my original songs .
Through my live streaming , I'm just doing what I like . But also trying to make it  interesting , also I hope my peeps will find nice music by my streaming !!
Today over 500 people came to the JUNA's  BASStream!?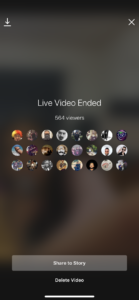 Thanks !!   This live streaming is free , but I would be happy if you can make a donation !  it will help my music investment ..!
Thanks for always supporting me .
Next JUNA's BASStream is next week, same time ! follow my instagram and be ready !!
I'm kinda thinking , maybe next theme will be something FUNKY
See ya !!
---
♪ Juna Serita live stream every week ♪
+ JUNA's BASStream + on Instagram live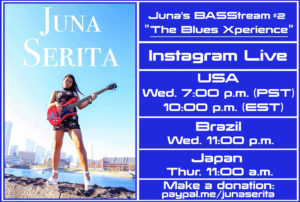 Please follow  IG @junaserita and be ready  ♪
Start at each local time
USA : Wednesday 7 :00pm (PST) / 11:00 pm (EST)
Brazil : Wednesday 11:00 pm 
UK : Thursday 3:00 am 
France : Thursday 4:00 am (CEST) 
Indonesia: Thursday 9:00 am (WIB) 
Japan: Thursday 11:00 am
etc…
tip ⇨ http://paypal.me/junaserita
---
Juna Serita new single  "KAFUNSHO "official Music Video 
Juna.