Hey guys!! I'm a bass guitar player Juna Serita!!
I uploaded new video on my youtube channel . This is a collaboration video with Japanese all bass band called The Choppers Revolutions .
They slap incredibly , sooooo hard to catch up with them !lol  I tried my best tho.  I hope you guys will like it !
See ya!!!
---
♪ Juna Serita live stream every week ♪
+ JUNA's BASStream + on Instagram live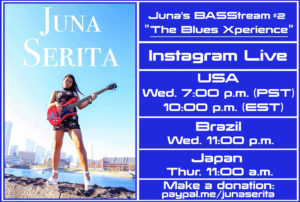 Please follow  IG @junaserita and be ready  ♪
Start at each local time
USA : Wednesday 7 :00pm (PST) / 11:00 pm (EST)
Brazil : Wednesday 11:00 pm 
UK : Thursday 3:00 am 
France : Thursday 4:00 am (CEST) 
Indonesia: Thursday 9:00 am (WIB) 
Japan: Thursday 11:00 am
etc…
tip ⇨ http://paypal.me/junaserita
---
Juna Serita new single  "KAFUNSHO "official Music Video 
Juna.