Hey guys!! I'm a bass guitar player Juna Serita!!
Today is !!!!! I had my very first live streaming show called JUNA's BASStream !!
To be honest , I was kinda nervous ..well, not kinda. I was EXACTLY nervous ! lol
I was preparing till after midnight maybe 2 am  and went to bed but couldn't sleep at all and got worried to oversleep , so got up from the bed at 5 am and practiced , and checked the karaoke track  again and again ,etc….lol
But I'm so glad that you guys were really warm . Thanks for letting me be relaxed .  Your comments helped me a lot actually .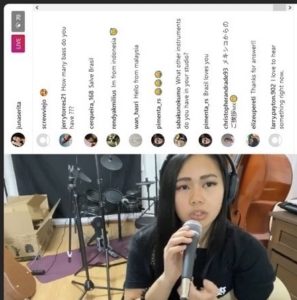 This is my first live streaming , so for introduction I played all my original songs ; ) !
Mostly from my current album called The Princess of Funk.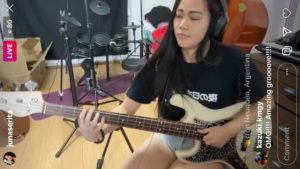 These days all gigs got cancelled , so I don't have any opportunities to see my fans who always come see my shows  , but today I even talked the people that I have never met yet in person ! it's wonderful , isn't it?
On this JUNA's BASStream, I enjoy not only playing the bass guitar  , but also talking with you guys .
(Well, I haven't seen anybody for a while. So I was worried whether I can communicate with human  ..  no matter it's in English or Japanese .lol)
Sorry sometimes the internet connection went bad, and it suddenly stopped twice maybe …
but seems like 278 people came !?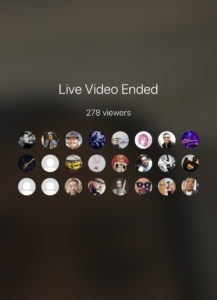 Thanks !!!  And I really appreciated  for your tips ; ( !    I  checked everybody 's name . Thank you .
I know we all are in tough situation these days .  Not only a musician .  I promise   I use the money for meaningful  things .
Next live  streaming is , next week , same time !!  Wrote some country 's local time .  Please check your time ; )
Today I played a lot of slap stuff (because it's my original song lol), but I'm kinda thinking next time , I wanna play more shibui stuff ♪  (shibui is Japanese word , but seems like I can use it for English too according to internet )
See you next week at JUNA's BASStream !
bye
---
♪ Juna Serita live stream every week ♪
+ JUNA's BASStream + on Instagram live
Please follow  IG @junaserita and be ready  ♪
Start at each local time
USA : Wednesday 7 :00pm (PST) / 11:00 pm (EST)
Brazil : Wednesday 11:00 pm 
UK : Thursday 3:00 am 
France : Thursday 4:00 am (CEST) 
Indonesia: Thursday 9:00 am (WIB) 
Japan: Thursday 11:00 am
etc…
tip ⇨ http://paypal.me/junaserita
---
Juna Serita new single  "KAFUNSHO "official Music Video 
Juna.