Hey guys !! I'm a bass guitar player Juna Serita!!
week ago , I wrote about Roger Sadowsky 's FB post that I got No.1 of most watched video of 2020 January on American web magazine "No Treble ".
But I finally found out the source !lol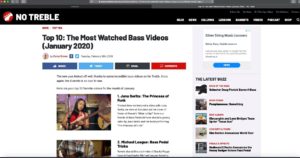 OMG I didn't know but  No.2  is bass player from Snarky Puppy's video about pedals . and No. 3 is my idol Marcus Miller's session video !! lol
I feel kinda really weird but I'm really happy that my name is on it with greatest bass players of the world !!!
Anyway , thanks for watching my video !! I hope you guys like it !!!
See ya!!!
---
Juna Serita " The Princess of Funk "official Music Video 
Juna.