Hey guys !! I'm a bass guitar player Juna Serita!! 
Today I  had dinner with this special cute girl ; ) !!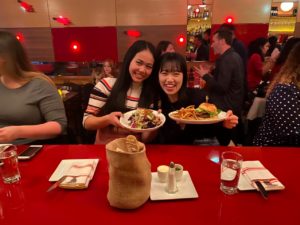 Her name is MIU. She is actually a worldwide tap dancer !!
We sometime performa at shows also she played for my solo album  too !
You can listen to her tap dance sound through the song called Hey boy !
I always love to work with her. She is just 19 years old but actually pretty matured !lol
After that I went to Cafe Wha? to join open mic.
ベース持ってくの忘れたので借りました❣️#ニューヨーク pic.twitter.com/zj5P9uE5xE

— Juna Serita (@JunaSerita) February 19, 2020
I played Rock Steady by Aretha Franklin and really enjoyed it !!
See ya!!
---
Juna Serita " The Princess of Funk "official Music Video 
Juna.