Hey guys !! Merry Christmas !! I'm  a bass guitar player Juna Serita!!
Do you guys get some presents ? I actually did by some people  , and also bought by myself .
BTW   a friend messaged me . And I didn't know what happened …..
The message was like
「 HOLY SHIT!!! I just saw Bootsy Collins tagged you in his Christmas post too. Damn! 」
WTF!?!?!?!!? 
Of course I'm a huge fan of him , you know I don't need to mention but EVERYONE loves him if they are into funk music 'cause he is the God of funk !!
However , I'm still just a bass guitar player . Not well known , still there are too many things I can't handle .  So I wonder why he knows (?) me…..
So I guessed … Oh maybe he tagged many bass guitar players bcz it's the  Christmas …..
And I checked his page and …..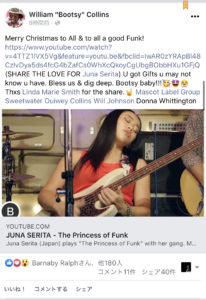 Oh my god ….!! I'll be damned
This is what  he posted … He shared my MV, and tagged my FB fan page …. I'm over the mooooooooooon ; ( !!!!!!!  I can't thank enough and I'm so grateful . He exactly made my day special …. !!!!!!!!!
It must be Christmas gift ….!!!
See ya!!!!
---
Juna Serita " The Princess of Funk "official Music Video 
【Juna Serita Schedule】
💖Juna Serita バースデーライブ💖
2020.1.12お昼 @ 三軒茶屋グレープフルーツムーン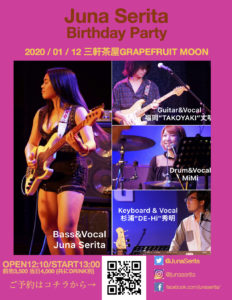 Open 12:10 Start 13:00 2ステージ 途中休憩あり
MC : 予約 3,500円 当日 4,000円 (税込・飲食代別)
Juna Serita (Bass & Vocal)  / 福岡"TAKOYKAI"丈明 (Guitar & Vocal)  / 杉浦"DE-HI"秀明 (Keyboard & Vocal)  / MiMi (Drums & Vocal)
Juna.