Hey guys!! I'm  a bass guitar player Juna Serita !!
Today was actually my final Giga Bar Tokyo day …; (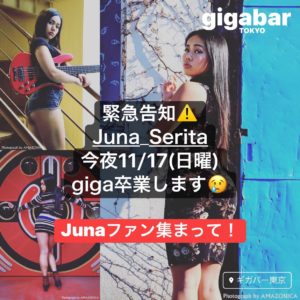 I've worked here as a bass guitar player of the  house band for 1 and half year . 
I passed the audition but then , the boss said to me " You're great funk player , but seems like you are not good at rock…lol" .  I kinda prepended to be a multi player , but he recognized that . lol
So Giga Bar has so many repertories about 250 songs . Over half songs should be rock music .
When I started work here , actually I only knew 10 songs ..lol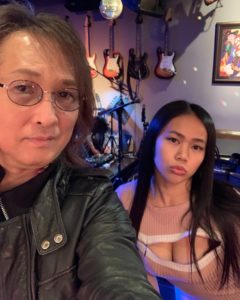 Since then , many people helped me to learn the other songs . Musicians , boss , and also the audience . 
I'm so happy to be here with you guys , I'm so lucky .
I quit here , but I 'm pretty sure I'll come back often just for hangout / dinner . 
The reason I quit is , I just wanted more time for myself .
I wanted to have more time to prepare for Juna Serita's  show , TOKYO BRASS STYLE 's show , TOKYO GROOVE JYOSHI's show . And also I wanted to more work on song writing as SSW.
Anyway , I'll keep going on my music stuff , and hopefully I'll be ex-Giga Bar Musician that everyone proud of . 
See ya!!!!
---
Juna Serita " The Princess of Funk "official Music Video 
【Juna Serita Schedule】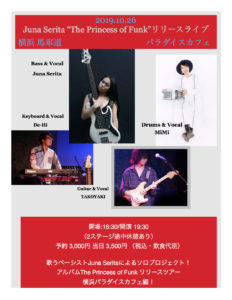 2019.10.26 @  Yokohama paradise cafe .
Open 18:30 Start 19:30 2ステージ 途中休憩あり
MC : 予約 3,000円 当日 3,500円 (税込・飲食代別)
Juna Serita (Bass & Vocal)  / 福岡丈明 (Guitar & Vocal)  / 杉浦秀明 (Keyboard & Vocal)  / MiMi (Drums & Vocal)
Juna.