Hey guys !! I'm a bass guitar player Juna Serita ! !
I came back to Japan this morning !! And till midday I had no schedule so finally went to see a doctor .
I'd been feeling painful on my arms for over three months.  This summer I was working on too many skilled songs .(Still there are some songs that I can't handle yet tho ) Of course it needs a lot of practice, and I did it again and again . And fast anyway .. And I'm not used to playing fast , probably I was so lazy.  And suddenly I started to work on it , my arms  were nervous . That must be the reason . ( It's  embarrassing  because I always tell my students to get the hands relaxed . lol  I'm the person who needs to be relaxed .)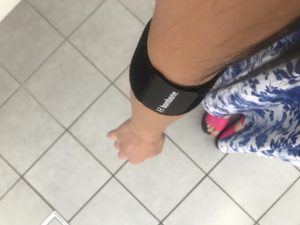 Plus I didn't really have time to rest .. I think I had full day off only 3days in 3 months . I know I work too hard but this is because I wanted to make my own album . And I'm proud that  I did  best on it  .
The doctor said it takes about a half year to heal  . But his job is make it shorter and he is specialist of this problem according to the internet .
Gave me the tape and taught me some exercise for the pain, and told me somethings I should care through daily habit .
Anyway , seems like I should take rest a little more ..  I'm so afraid of my future .
I just gotta fix it  ; )
See ya!
---
Juna Serita " The Princess of Funk "official Music Video 
【Juna Serita Schedule】
2019.10.26 @  Yokohama paradise cafe .
Open 18:30 Start 19:30 2ステージ 途中休憩あり
MC : 予約 3,000円 当日 3,500円 (税込・飲食代別)
Juna Serita (Bass & Vocal)  / 福岡丈明 (Guitar & Vocal)  / 杉浦秀明 (Keyboard & Vocal)  / MiMi (Drums & Vocal)
Juna.