Hey guys!! I' m a bass guitar player Juna Serita!!
Today is Halloween .  I totally forgot about it and I had tons of bess lesson today . Shibuya was terrible ; ( It was too crowded and I couldn't move at all .
I'm sorry to my students to come all the way ; (    I 'm not a party person , so I don't know how to enjoy Today's Shibuya .. (I meant , Halloween is fine ,but the crowd .)
It gave me headache ..
btw one of my students gave me this bread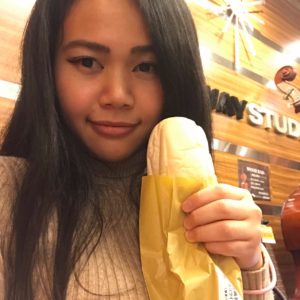 This is so tender and sweet . I was soon irritated but it got me culm down … Thanks ; (!!!!
See ya!!!
---
Juna Serita " The Princess of Funk "official Music Video 
【Juna Serita Schedule】
* Juna Serita Birthday Party *
2020.1.12 @ Sankenjaya Grapefruit Moon
Open 12:10 Start 13:00 2ステージ 途中休憩あり
MC : 予約 3,500円 当日 4,000円 (飲食代別)
Juna Serita (Bass & Vocal)  / 福岡"TAKOYAKI"丈明 (Guitar & Vocal)  / 杉浦"DE-HI" 秀明 (Keyboard & Vocal)  / MiMi (Drums & Vocal)
Juna.