Hey guys!! I'm a bass guitar player Juna Serita!!
I've finally done my CD process !!( I sent all of datas to the CD press company so now what I do next is just wait !! )
This is my album CD jacket by Atsuto Amazonica Onozawa.

I did my best as a bass guitar player , vocalist , song writer , producer , artist on the CD !! You know , I do love to play for artists / vocalists etc. However my dream is being not only a backup musician , but also an artist like my bass heroes/ heroines . So I hope this CD will be the beginning of my career as an artist .
I'm gonna have a release event on the 16 th September at Shiodome BLUE MOOD . I'm a little bit nervous already but more excited . Please book your schedule if you are around Tokyo, Japan .

BTW today I'm in Okasa for tomorrow's Rie a.k.a. Suzaku show .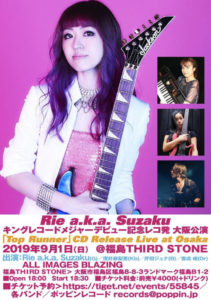 Always fun to play with her . She always inspired me .
I do love to be with the people who always try to make things better because I also easy to keep my motivation then .
See you tomorrow !!
---
【Juna new video】
【Juna Serita Schedule】
2019.9.16 (Mon)
BLUE MOOD @ Shiodome , Tokyo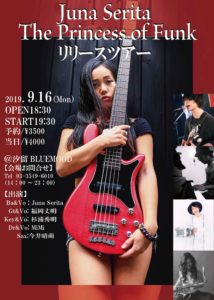 Open : 18:30 / Start :19:30
予約3,500円 / 当日4,000円出演
Bass & Vocal : Juna Serita / Guitat & Vocal : Takeaki " Takoyaki" Fukuoka / Keyboard & Vocal : Hideaki "De-Hi" Sugiura / Drum & Vocal : MiMi / Sax : Harumo Imai
【reserve】
TEL : 03-3549–6010
(14:00~23:00)
2019.10.26 @  Yokohama paradise cafe .
Juna.