Hey guys!! I'm a bass guitar player Juna Serita!!
Day after tomorrow I'm gonna go to London for Rie a.k.a.Suzaku's performance !
Well, I haven't had chances to speak in English for a while and got worried about my English level for tour .  So I took a lesson today.
https://twitter.com/JunaSerita/status/1178559175397265411?s=20
There are many poses I can tell ; (   Until March , I lived in a far place from central Tokyo. That's why I always needed to kill the time like on a train , between works , anytime .  Then I always read English article , watched Netflix , some news , and talked to my language partner  everyday , etc…  Which means English study was just my routine . I even didn't think I'd been studying hard, but now I can say I did .
Now I live in middle of Tokyo . Then I don't need to kill my time and I can go back home once whenever if I want to.  Plus when I 'm at home, I prioritize the other things like playing the bass guitar , singing , song writing etc…
Then my time for English study has gone. lol   Just forgot.  Now I feel kinda shy to speak English ….
I really gotta catch up ….
See ya!!
---
Juna Serita " The Princess of Funk "official Music Video 
【Juna Serita Schedule】
2019.10.26 @  Yokohama paradise cafe .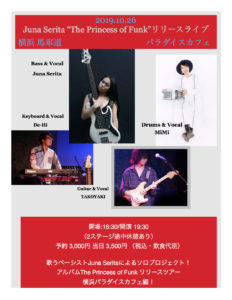 Open 18:30 Start 19:30 2ステージ 途中休憩あり
MC : 予約 3,000円 当日 3,500円 (税込・飲食代別)
Juna Serita (Bass & Vocal)  / 福岡丈明 (Guitar & Vocal)  / 杉浦秀明 (Keyboard & Vocal)  / MiMi (Drums & Vocal)
Juna.