Hey guys!! I'm  a bass guitar player Juna Serita!!
Today I had a recording for my solo album !!
We recored horns and backing vocals .
This is horn ladies  . Everyone often play with me  ; )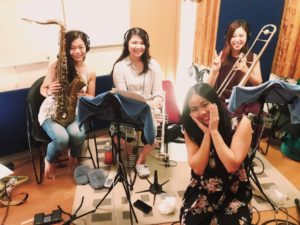 from the left side on the photo, Harumo / Shiori / Chihiro.
I didn't mean it but they said the horn lines I made is kinda complicated and difficult . but they did great . I really appreciate and can't believe the sound made by all women . ! I'm so proud of them.
And after that , I had backing vocal recording.
I asked two vocalists to sing .
He is Walter Jackson , one day we worked together as backup musicians for an  female singer song writer .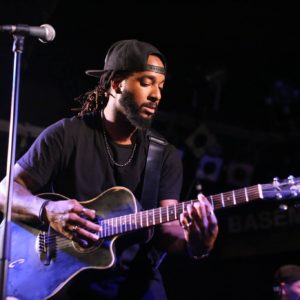 Then I got inspired a lot by his voice .  Sounded like he can handle EVERYTHING.  And at the recording , I order many things but he did everything very easily . Fantastic guy .
And another vocalist , Judy !!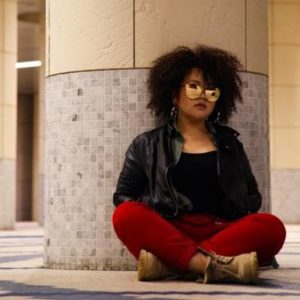 Actually now she is my vocal coach. As you know my vocal was terrible but getting better day by day because of her .
I asked her many runs and it was incredible . She sang differently each time and that was variety !!
And I do love her warm voice .
They made my  songs much greater . I'm so  grateful  to have them on my album , in my life.
Anyway , can't to wait to hear the result !!!!
See ya!!!
---
【Juna new video】
【Juna Serita Schedule】
2019.9.16 (Mon)
BLUE MOOD @ Shiodome , Tokyo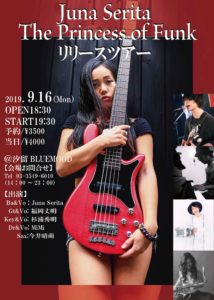 Open : 18:30 / Start :19:30
予約3,500円 / 当日4,000円出演
Bass & Vocal : Juna Serita / Guitat & Vocal : Takeaki " Takoyaki" Fukuoka / Keyboard & Vocal : Hideaki "De-Hi" Sugiura / Drum & Vocal : MiMi / Sax : Harumo Imai
【reserve】
TEL : 03-3549–6010
(14:00~23:00)
2019.10.26 @  Yokohama paradise cafe .
Juna.