Hey guy!! I'm a bass guitar player Juna Serita!!
I'm happy to announce about this .
I became a endorser of Sadowsky !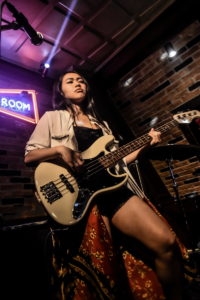 One day, Okada International which is Japanese distributor of Sadowsky  was looking for a endorser for their new bass model called SLAP MASTER .
The bass guitar is focused on slapping , so they were looking for such a great slapper .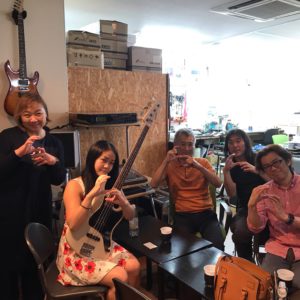 And I really appreciate for the great opportunity . And really thanks to Kayo-san who introduced me to them and showed some of my videos to them . She is also great bass guitar player .
To be honest, I was a little surprised because I like slapping as much as finger picking but   I didn't mean I'm good at slapping , I didn't know .
However if they think I'm a great slapper , it makes me  motivated a lot to slap !!
Well …  you know I was looking for something special on my bass play and always wondering what my strength is .
Feels like now I kinda understand that must  be slapping through  this SLAP MASTER . : ) !!!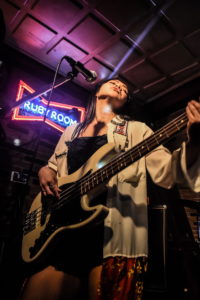 So I'm so excited to build my career with this gear !!!
I recorded my solo album with this bass guitar too.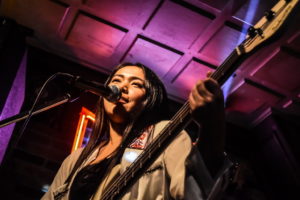 Please look forward to listening to it … ; )
See ya!!!!
---
【Juna Serita Schedule】
2019.9.16 (Mon)
BLUE MOOD @ Shiodome , Tokyo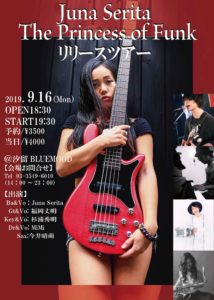 Open : 18:30 / Start :19:30
予約3,500円 / 当日4,000円出演
Bass & Vocal : Juna Serita / Guitat & Vocal : Takeaki " Takoyaki" Fukuoka / Keyboard & Vocal : Hideaki "De-Hi" Sugiura / Drum & Vocal : MiMi / Sax : Harumo Imai
【reserve】
TEL : 03-3549–6010
(14:00~23:00)
2019.10.26 @  Yokohama paradise cafe .
Juna.