Hey guys!! I'm  a bass guitar player Juna Serita!!
Today finally double bass came my home !!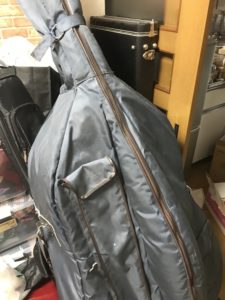 It's actually much bigger than I expected ! lol
But I'm so excited to play it !!
Now I'm stuck on somethings , but after I've done them I'll play . Can't wait to start my double bass career ; ) !
And afternoon  I had a recording of my vocal !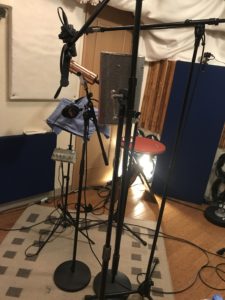 There are many things I got noticed . I know vocal is my weak point …. but I wanna sing my original songs by myself because it's my expression of feelings. That's why I'm trying to be good….
Anyway I really appreciate to the engineer Kato-san.
I asked some people to do vocal direction for me at the recording but nobody is available . I should have asked earlier .  I just tried my best and Kato-san gave me many advices  . How great he is.
I'm just excited to see how it goes …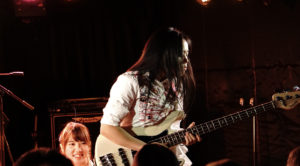 See ya!!
---
【Juna new video】
【Juna Serita Schedule】
2019.9.16 (Mon)
BLUE MOOD @ Shiodome , Tokyo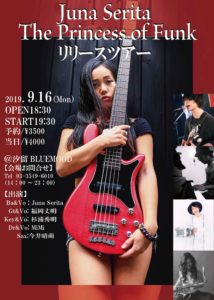 Open : 18:30 / Start :19:30
予約3,500円 / 当日4,000円出演
Bass & Vocal : Juna Serita / Guitat & Vocal : Takeaki " Takoyaki" Fukuoka / Keyboard & Vocal : Hideaki "De-Hi" Sugiura / Drum & Vocal : MiMi / Sax : Harumo Imai
【reserve】
TEL : 03-3549–6010
(14:00~23:00)
2019.10.26 @  Yokohama paradise cafe .
Juna.