Hey guys!! I'm  a bass guitar player Juna Serita!!
Today I had a recording for my solo album which will be released in September .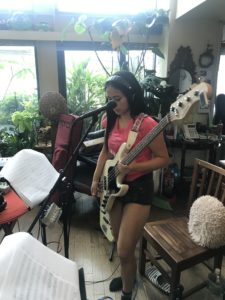 The album concept is funk music . All 5 songs are funk music with different way. 
I decided to make the album (actually its only 5 songs, so I should better to say " EP ") because I wanted to show everything that I've learned / felt ever through my life .  I put a lot of my roots on it .
And I want to take  them to the world .  I hope it'll be my new start line to the next step.  That's why I wrote all songs in English (even though my pronunciation is suck .lol )
Anyway , the recording went really well because of the awesome engineer and member !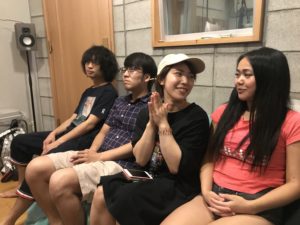 I really appreciate to them. I can't thank enough .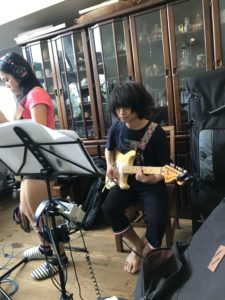 After this , we'll record tap dance , horn, vocal, backing vocal etc…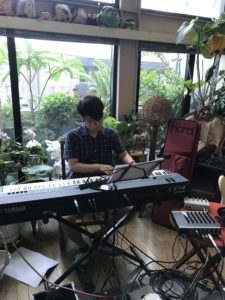 I'm so excited !!!   
See ya!!!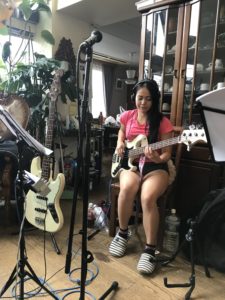 ---
【Juna new video】
【Juna Serita Schedule】
2019.9.16 (Mon)
BLUE MOOD @ Shiodome , Tokyo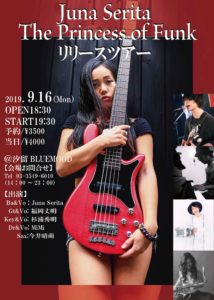 Open : 18:30 / Start :19:30
予約3,500円 / 当日4,000円出演
Bass & Vocal : Juna Serita / Guitat & Vocal : Takeaki " Takoyaki" Fukuoka / Keyboard & Vocal : Hideaki "De-Hi" Sugiura / Drum & Vocal : MiMi / Sax : Harumo Imai
【reserve】
TEL : 03-3549–6010
(14:00~23:00)
2019.10.26 @  Yokohama paradise cafe .
Juna.