Hey guys !! I'm a bass guitar player Juna Serita !!
Today I had a gig of TOKYO GROOVE JYOSHI at Haretara Sorani Mamemaite in Daikanyama, Tokyo.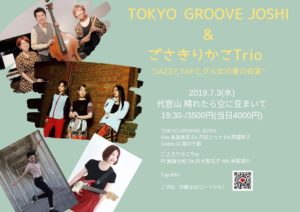 Another act is Gosaki Rikako Trio . It's a jazz band . And the leader Rikako Suzuki is my ex. band member ! She was in TOKYO BRASS STYLE to ; )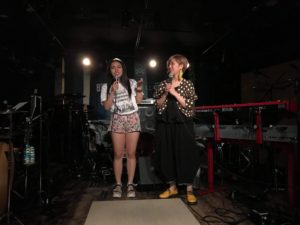 SET LIST
M1.My sweetness
M2.Princess funk
M3.Run for Cover
M4.Morning
M5.Trap
M6. Power
M7. Pick up the piece
M8.He loved you
M9.Stuff – (Do You) Want Some of This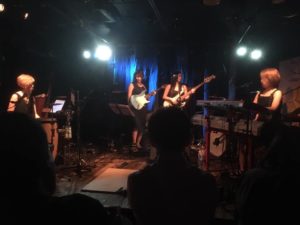 TOKYO GROOVE JYOSHI had special guests . Guitar player Chizuru Segawa, and tap dancer MIU.
I always enjoy to collab with them ; )!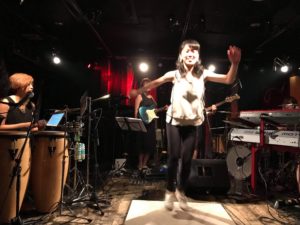 Actually the tap dancer MIU will play at  my CD recording too ! She is DOPE.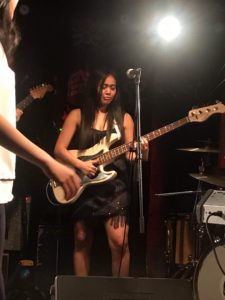 I brought my CD release event's tickets . And I'm so glad that many people bought it . Appreciate !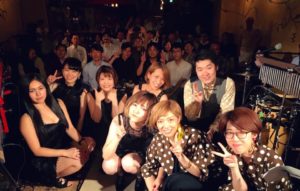 If you wanna come to my release gig on the 16th September  but you have no chance to come get the ticket , you can just reserve to the venue without ticket !
TEL : 03-3549–6010
(14:00~23:00)
See ya!!
---
【Juna Serita Schedule】
💖2019.9.16 (Mon)
BLUE MOOD @ Shiodome , Tokyo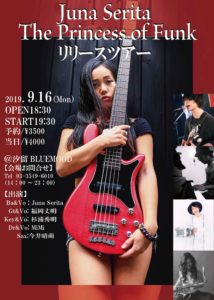 Open : 18:30 / Start :19:30
予約3,500円 / 当日4,000円出演
Bass & Vocal : Juna Serita / Guitat & Vocal : Takeaki " Takoyaki" Fukuoka / Keyboard & Vocal : Hideaki "De-Hi" Sugiura / Drum & Vocal : MiMi / Sax : Harumo Imai
【reserve】
TEL : 03-3549–6010
(14:00~23:00)
💖2019.10.26 @  Yokohama paradise cafe .
Juna.