Hey guys! I'm a bass guitar player Juna Serita!!
Today the interview of my hometown gig is appeared on  newspaper of Hokuriku Chunichi Shimbun ,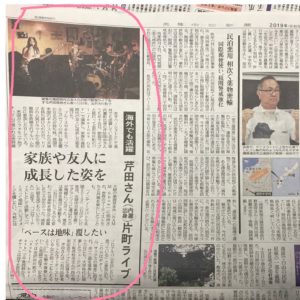 I appreciate  for their supporting . Thanks!!
If you take newspaper , please check it out ; ) !
And in the evening , I had performance at Tetsuo Sakurai (ex CASIOPEA) 's show as a guest musician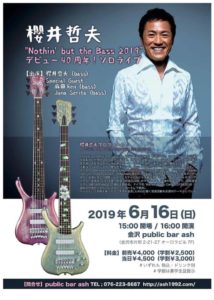 He is my bass master . I tool his lessons  for 4 years .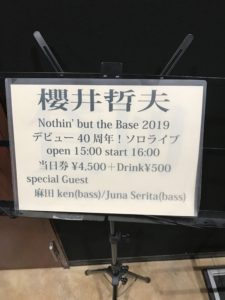 I learned not only how to play the bass guitar from him , but also many things .
Like how to walk , how to groove , how to  feel the rhythm , how necessary English is , how professional musicians do , etc…
After he performed alone , he played with another guest musician called Ken Asada .
Ken-san is also bass guitar player , and also my master !! lol
It's kinda complicated . I was born and grown up in Ishikawa prefecture and I was here till graduation of high school . I took Ken-san's bass lesson several times before the entrance  exam of music university .
After their performance , I and Tetsuo Sakurai performed together without backing track .  Only two bass guitars .
We played I WISH by Stevie Wonder.  We both love his songs . It was  such  a great moment .
And after our performance , we all played together !  From the left side on the pic, Juna  / Tetsuo / Ken .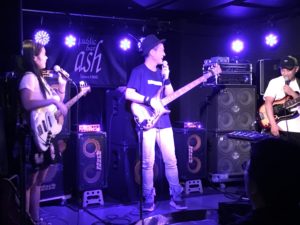 We played Spain by Chick Corea with three bass guitars .
It was unique ! Lol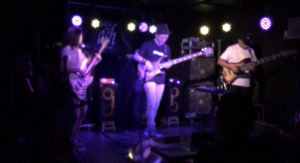 Someone play the bass line , someone play the cord , someone play the melody or solo etc …
I'm happy to play with my two bass master at a same time ! Lol
Today's my costume is Tetsuo Sakurai's original T-shirts !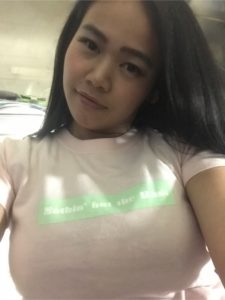 It's XS ; )   So cute , isn't it ; ) ?
See ya !!!!!
Juna.