Hey guys!! I'm a bass guitar player Juna Serita!!
I woke up at 7 AM and went to the gym "B-core studio Tokyo". 
I've come here twice already but then I took only massages so far .
Today 's  lesson is exactly WORKOUT !!!
I was actually not sure what kind of workout it is …
Yesterday Akabane-san (the therapist ) told me the program must be really hard for me .
Uhmnnn ………        
 Really ?   
 You know ….   I'm chubby , but I believe  I'm an athletic chubby lady  .  I used to learn Karate (7 years ) / basketball(3 years ) / baton twiling (4 years ) / hip hop dance (now and then ) / Kyudo (about two years ) / etc…
In fact, I still have muscles and I can move a lot . 
So I actually didn't  take what she said to me so seriously . 
However ,there was information about each program . So I checked it out .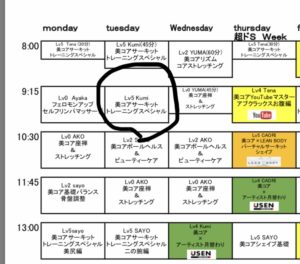 The page explains how hard program it is . Less fire mark means not hard , more relaxed or stretching .  Many fire means HARD !!!!
And today's my program is "B-core circuit training special ". So according to the page…..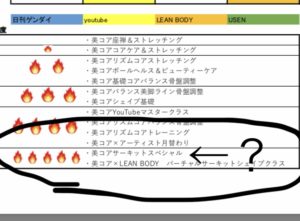 …….WTF  !?
it was 5 fire . Which means it's one of the hardest programs ; ( !!!!  
Oh…. okay ….  Now I can imagine  how hard it is .. And she was right . 
Today's teacher is Kumi-san. She looks very fit !!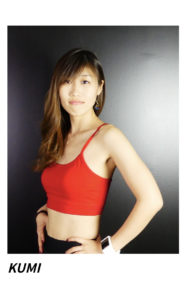 The program started from stretching ,and moved to WORKOUT .
Yes….  it was absolutely hard for me …… ; ( 
But the teacher was also doing the same thing (actually she was doing with harder way than  ours  ) while she teaching .    How great ,isn't she ?
After I finish one set ,I even couldn't t afford to talk to somebody . Just tried to make my breath calm ….; (
For just an hour , we could train whole body .  That 's the point I am really surprised . 
Nowadays there are many gyms that people can go anytime , and they can workout with "their pace".
I also have hit the gym like that and  always wished  to have muscle pain on the following day but it's really hard to corner  myself  .  And it takes time . 
So I realized how fantastic B-core is .  It was just an hour but I'm pretty sure tomorrow I'll have muscle pains on my whole body .
That's DOPE….
Well.. I asked a stuff to take photo of me .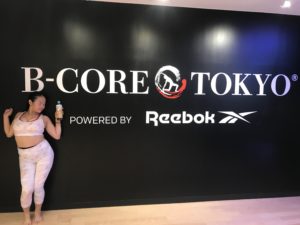 When I checked the pic , I noticed  I'm fatter in the pic  than I expected . ; (
I thought like " man… Is that me ?  It's not sexy at all!!  I shouldn't upload this picture on my blog …"  . lol
I'm so fat in the pic, and I wanna hide .
but now I'm pretty sure I can be much sexier than now through B-core .
https://bicore-azabu.com/lp01/
I have so much confidence that my body will be changed  .
That's why  I uploaded the embarrassed photo too . lol
After B-core studio Tokyo, I had a bass lesson as a teacher .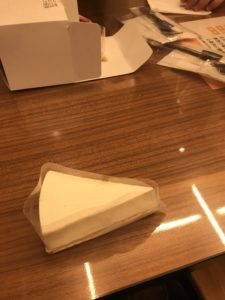 The student gave me a slice of cheese cake !!!
wow it's so yummmmmmy! I'm over the moon♡
At night I had performance at Giga Bar Tokyo .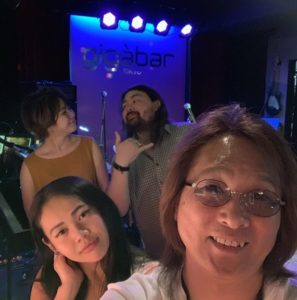 Today's member 
vocal : Mayu / Kenny 
guitar : Takeaki "Takoyaki" Fukuoka
keyboard : Harunobu Okubo
bass : Juna Serita
drums : Takeshi Endo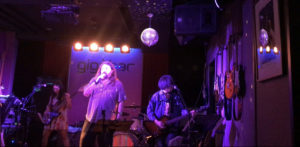 Today's set lit was kinda hard rock ! and some funk ; ) !
Actually next month my schedule is too hectic . I can't come work to Giga frequency  .  I'll miss Giga member perhaps . 
P.S.   Between B-core to Giga, I had bass lessons as a teacher .   The cheese cake given by a student was really nice ! yumyum ; )!
See ya!!
---
Juna.