Hey guys!! I'm a bass guitar player Juna Serita!!
For a long time I was thinking that I wanna do some live streaming.
However  I was not sure which  app I should use .
The reason I wanna do live streaming is,
・promotion (to new people ; )
・to practice  speaking English (I need more chance to speak English ; )
・to be used to stand out (I'm super shy actually ;  )
・to earn while traveling too (I gotta pay the rent and it's expensive for me ;  )
etc..
Since  these reasons , I chose the app called LIVE ME. ; )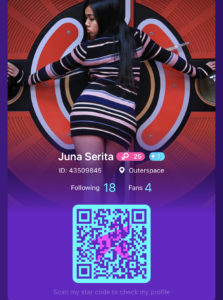 My ID is 43509845
I might start this weekend .  So could you add me and be ready ♡?
Thanks ; )
See ya!